Want a freak'n Awesome Dog?
Puppies can be hard work! We're here to take the overwhelm out of raising a puppy, so that you can have the dog of your dreams.
 The Cornerstones of raising a Freak'n Awesome Dog
With the right foundation, you can raise your puppy to be a Freak'n Awesome Dog!
Socialization
The key to helping our dogs feel happy and confident in a variety of settings and circumstances as they from puppies to adults.
Enrichment
Fulfilling our dogs biological needs through play, activities that express natural behavior, and brain games, to keep them calm and content.
Bonding
Activities and strategies for deepening the relationship between you and your puppy and creating a strong and meaningful bond.
Training
Communicating effectively with our dogs to help them learn how to interact and make better choices in our human world.
Four Trainers- One Mission
The four of us have more than five decades of professional experience with dogs.
Over the years, we've seen first-hand how socialization, enrichment, bonding, and proper training & management are the cornerstones of raising a freak'n awesome dog. The four of us have even written a book together to help people raise their puppies to adulthood using those four cornerstones. But we didn't think that was enough. We wanted to create a program that would help everyone see ACTUAL progress with their puppies.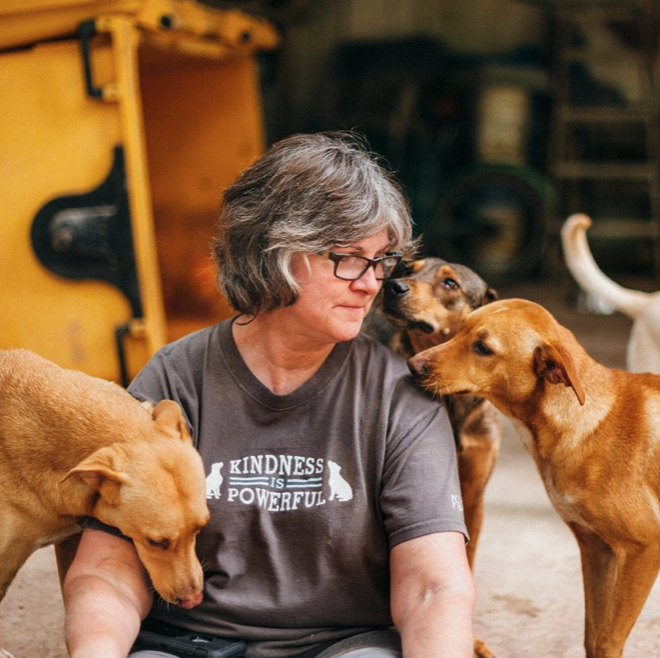 Laura Hills
In 2001, Laura found a young, stray dog she named Dudley who changed the trajectory of her life. Dudley was challenging from day one, and as he matured, his behavioral issues only worsened. When looking for local resources for help, Laura received many suggestions that made her uncomfortable. This led her to search the internet, where she stumbled across a seminar on the topic of reactivity given by a well-respected behaviorist. Little did Laura know attending that seminar would put her life on an entirely new path. Laura eventually left her corporate job and founded The Dogs' Spot – Dog Training Center, which is located in North Kansas City, Missouri. Laura and her staff specialize in teaching Puppy, Manners, Agility, Reactive Dog, and other group classes. Laura also enjoys earning Trick Titles (including with her blind and deaf collie, Fiona), competing in Agility, and taking cross country road trips with her husband.
Laura is a Karen Pryor Academy graduate and Certified Training Partner (KPA CTP), Certified Professional Dog Trainer- Knowledge and Skills Assessed (CPDT-KSA), Certified Canine Fitness Trainer (CCFT), Certified Trick Dog Instructor (CTDI), N.A.D.A.C. Endorsed Agility Instructor, Fear Free Certified Professional, AKC Canine Good Citizen and Trick Dog Evaluator, and Victoria Stilwell Positively Dog Trainer, Faculty Advisor, and Mentor.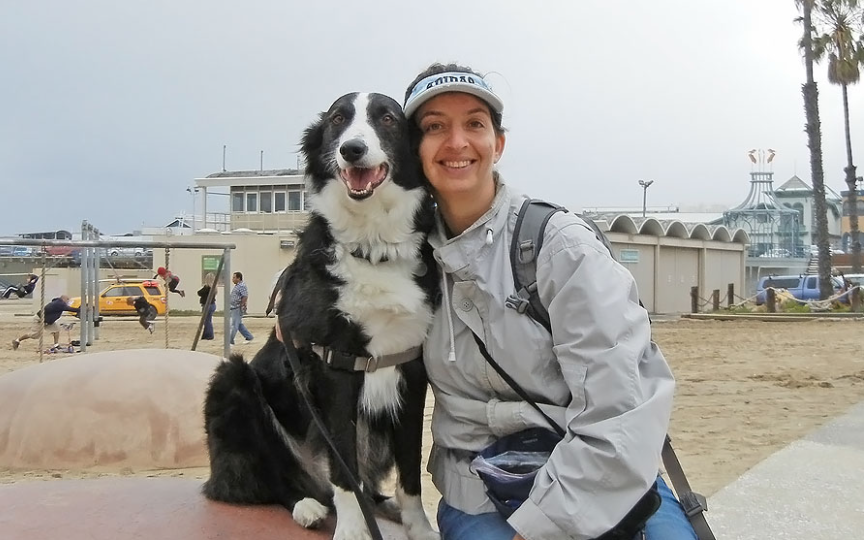 Irith Bloom
Irith has loved animals for as long as she can remember. She grew up with dogs, gerbils, and a pet snake (who was housed far from the gerbils), and was fascinated by horses. After years of (unsuccessfully) begging her parents to let her ride, she took matters into her own hands and won a horse in an essay contest. Irith's parents were too busy to train the animals, so Irith got good at teaching useful (from the human point of view) skills to non-human animals. A self-admitted geek, Irith has spent a great deal of time studying the science of behavior. She is fortunate enough to be invited regularly to give presentations on a variety of animal- and learning-related topics. Her writing on these topics has been published both online and in print.
Irith is faculty at Victoria Stilwell Academy for Dog Training and Behavior and DogBiz's Dog Walking Academy. She is also a Certified Professional Dog Trainer – Knowledge and Skills Assessed (CPDT-KSA), a Certified Behavior Consultant Canine – Knowledge Assessed (CBCC-KA), a Canine Dog Behavior Consultant (CDBC); a Victoria Stilwell Positively Dog Trainer (VSPDT); a Karen Pryor Academy Certified Training Partner (KPA CTP); a Certified Separation Anxiety Trainer (CSAT), and a Certified Behavior Adjustment Training Instructor (CBATI). She is a Fear Free Certified Professional and certified in TAGteach, a positive-reinforcement method for teaching humans.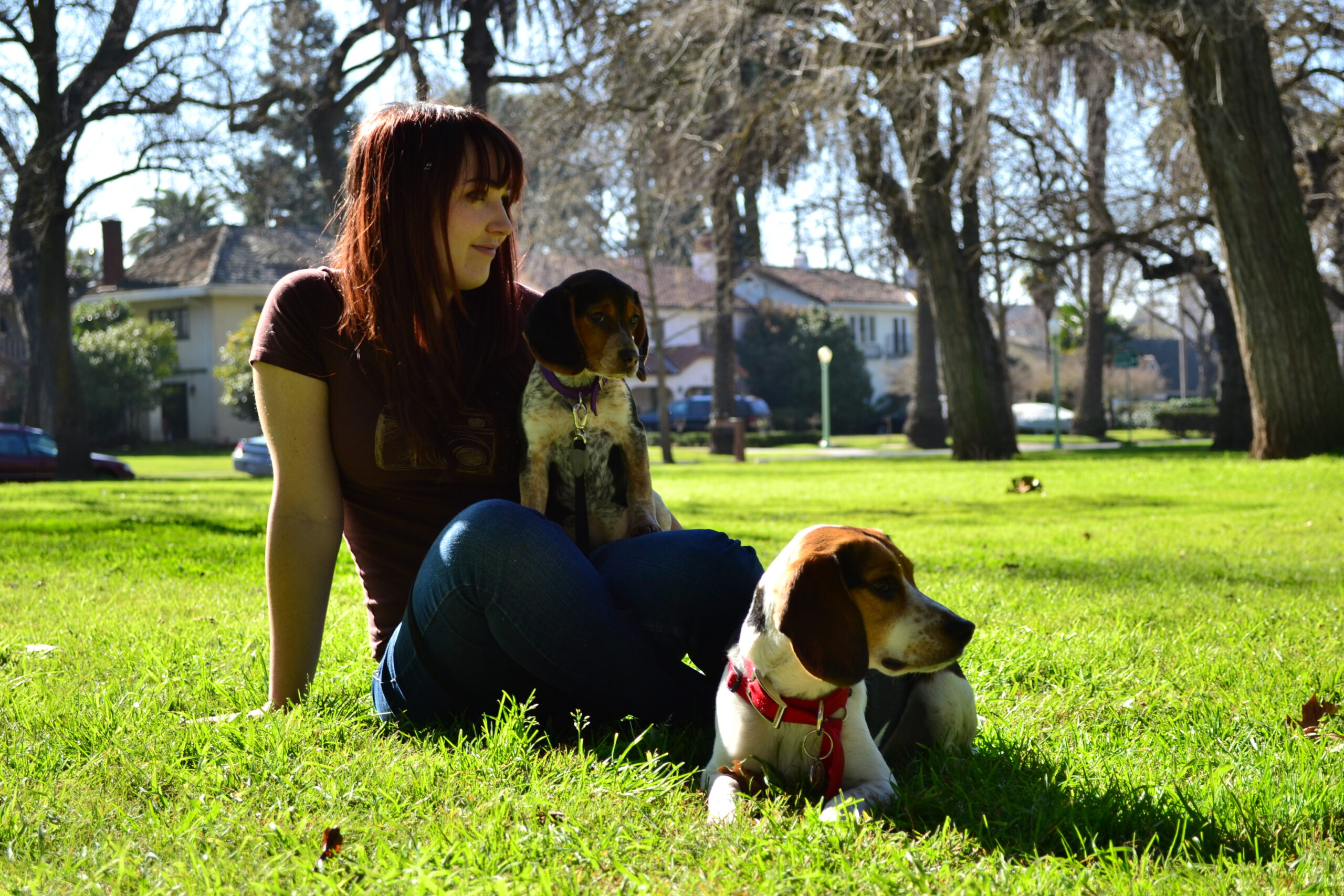 Cassi Perez
Cassi has spent her life around animals. At a young age, she began riding and taking care of horses. As a child, she was always bringing home kittens and strays and begging to keep them. She began pet sitting and house sitting for family and neighbors at the age of 12. She later worked with children as an ABA behavioral tutor while working towards her BA in psychology. After some wildlife-inspired travel to India, to see tigers, and Africa, to see mountain gorillas in the wild, Cassi decided to use her background in behavior and her love of animals to start Midtown Mutts, a dog training, dog walking, and pet sitting business in Northern California. Midtown Mutts has now grown into
a team of 20 dog walkers and trainers.
Cassi is a certified trainer through Karen Pryor Academy (KPA-CTP) and Victoria Stilwell Academy (VSA-CDT). She enjoys adventuring around town
and in the wild with her husband and hounds to breweries and cafes.
Hiking, camping, and kayaking are the things that make Cassi the happiest. Cassi also runs Hound Culture, an online community that helps others find adventures big and small, at home, around town, and in the wild,
with their dogs by their sides.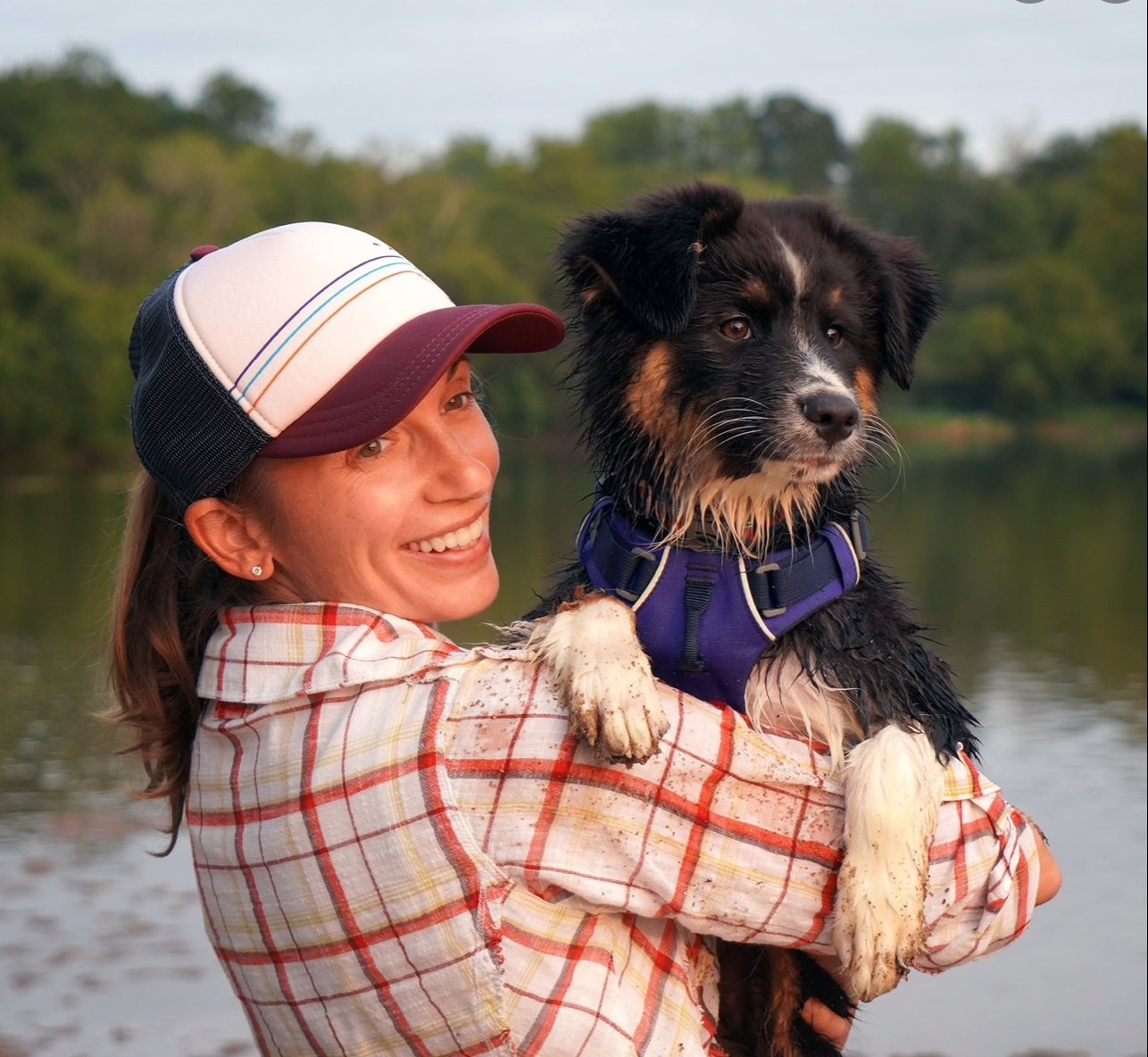 Maria Schultz
Maria is an outdoor enthusiast, author, and dog trainer. Originally from Buffalo, New York, Maria is now based in central Virginia, where she lives with her husband and three Australian shepherds, Riley, Bodie and Willow. The first day Maria ever got on a stand up paddleboard Riley was with her – they learned the sport together. That summer they attracted lots of attention and curiosity from people who wanted to learn to paddle with their own dogs. There were few resources available on training this skill, so Maria took matters into her own hands and combined her passions for graphic design, dog training, and paddling to create her first book How to SUP With Your PUP. Since then, Maria has also published Paddle Tails, Reflections on People and Dogs Who Find Balance on the Water, and My Dog and Me, a Bucket List Journal for Dogs and Their People. Maria also teaches SUP PUP classes and basic manners classes, as well as holding clinics on canine fitness and outdoor adventures with dogs. When she's not out paddling, Maria also enjoys mountain biking, hiking, climbing, skiing, and finding new ways to wear herself – and her dogs – out.
Maria is a Certified Canine Fitness Trainer (CCFT), and an ACA-certified
stand up paddleboard instructor.
Helping puppy parents take the overwhelm out of raising a puppy with step by step virtual learning. Get the support you need in raising your puppy into a Freak'n Awesome Dog. 
Scroll down to the form at the end of this page to join the waitlist!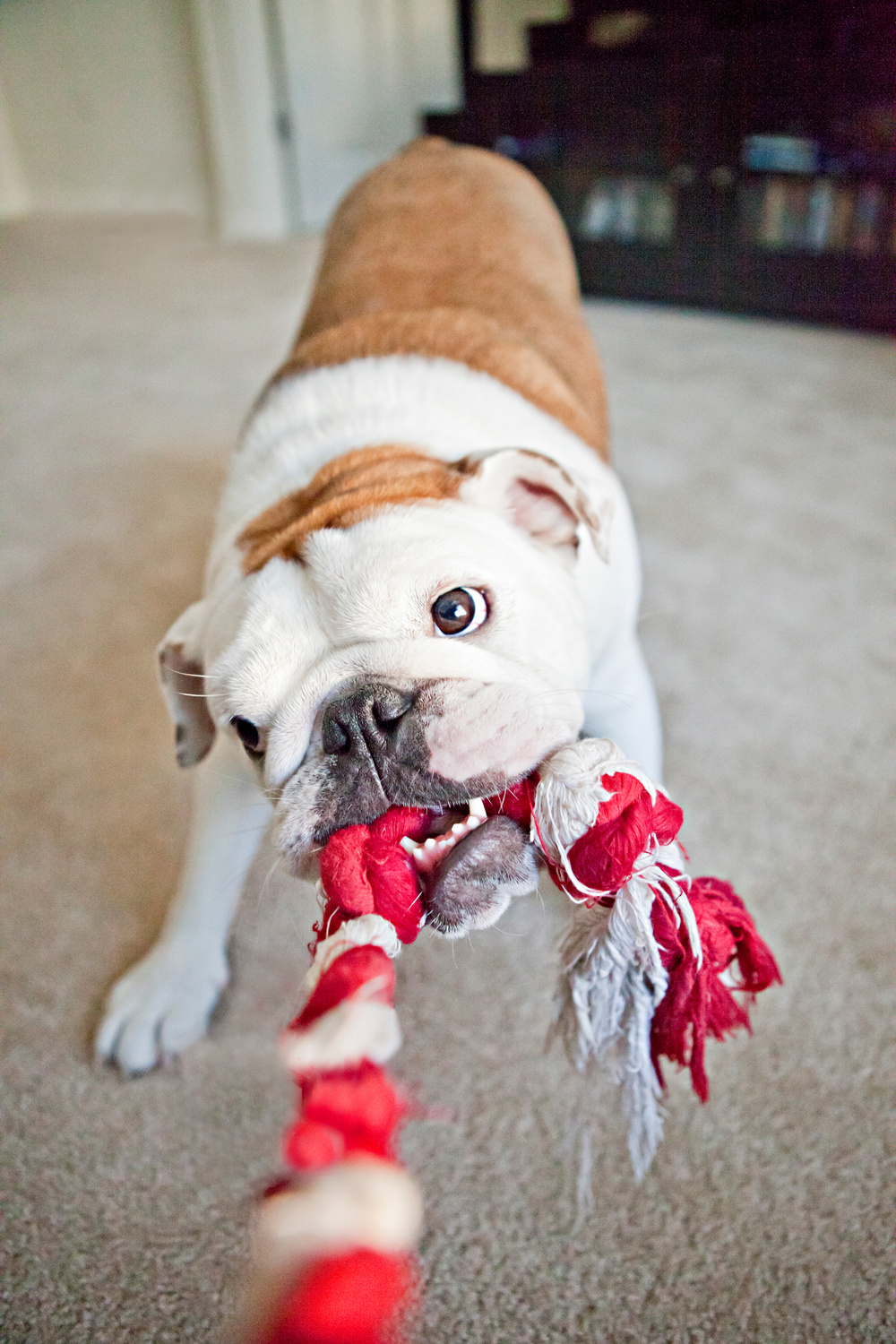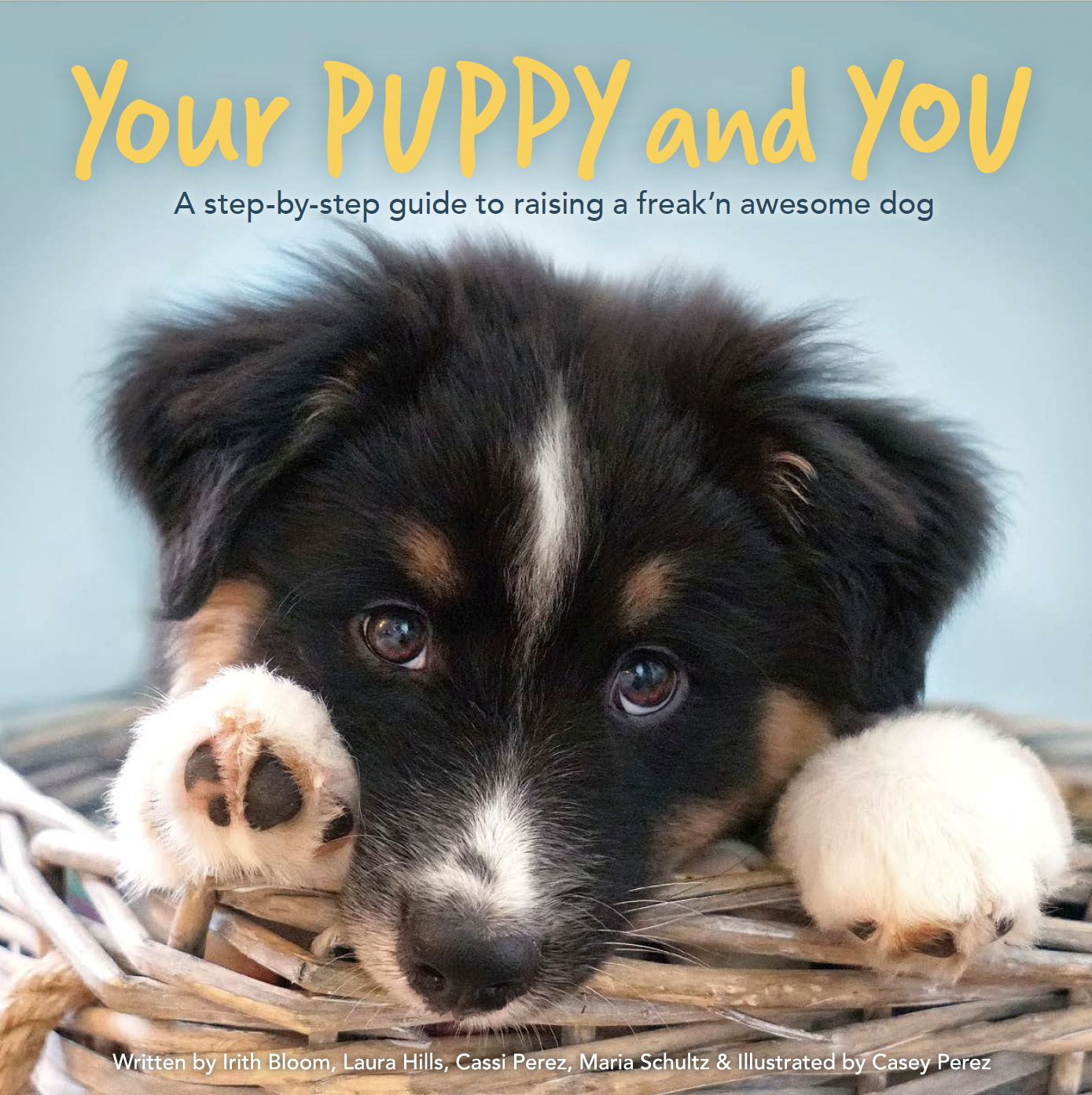 Do you have a new puppy in your home and more questions than answers? Struggling with housetraining and razor-sharp teeth? Having trouble figuring out what your puppy wants? Your Puppy and You is a step-by-step, interactive guide that helps you make progress and keep track of your puppy's milestones from eight weeks to two years of age. Raising a puppy can be overwhelming, but Your Puppy and You is here to help!